It is Christmas week this Friday. The main film for this special holiday edition is Christmas in Connecticut (1945). This is one of my favorite holiday films, as I'm sure it is for many others as well. No big description this time. If you haven't seen this film....you need to go out and rent it or buy it!!!! It's a very cute story and Barbara Standwyck has some great gowns, designed by Edith Head. This is a definite holiday must see!!!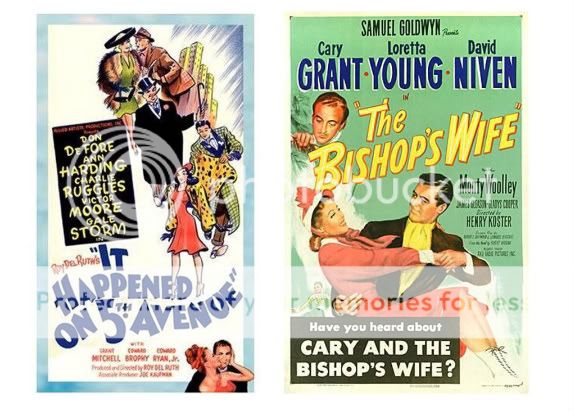 I selected four honorable mentions of sorts. I have blogged about It Happened on 5th Avenue (1947) before, and it does feature some really lovely coat and hat ensembles. Plus it is a really heartwarming movie. Lorraine MacLean did the costumes on this film and doesn't really have any other huge film to her credit. I found it interesting that she also dabbled in the make-up department as well as some acting in the late '20s and '30s.
The Bishop's Wife (1947) doesn't have a whole lot of fabulous costumes, but I really like that Loretta Young wears the high heeled over boots. There is also a great ice skating scene as well. Irene Sharaff did the costumes for this film and has done the costumes for some other big films, later in her career, such as West Side Story (1961), Mommie Dearest (1981), and Who's Afriad of Virginia Wolf (1966).
Holiday Inn
(1942) and
White Christmas
(1954) are both really wonderful Christmas musicals, both featuring music from Irving Berlin. As with most musicals, the costumes are great; Edith head did the gowns for both films.
I hope everyone is enjoying the holidays and I hope you get a chance to catch at least one of these great films!! Film Fashion Friday will be taking a short hiatus until for the holidays and will return in the New Year on January 8th 2010. Until then, if anyone has any suggestions for some themes (say a certain actress or actor, genre, etc.) or some of the eras you would like to see in the new year, let me know!!!! I love suggestions!!!
Emily