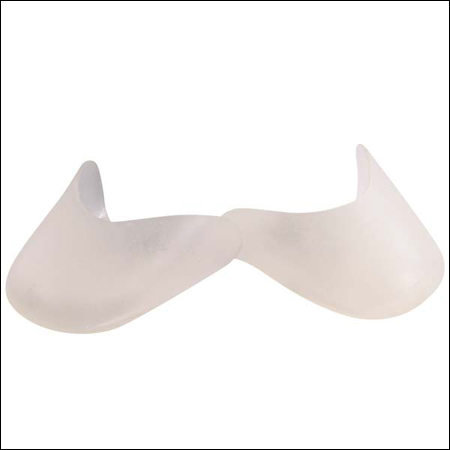 Have you ever bought a pair of vintage shoes online and when you received them they were a bit too big? This had happened to me a few times and I was so bummed but couldn't part with the shoes! I tried stuffing the toes with tissue paper, without successful results. It hurt and didn't keep my feet from slipping out of the shoes when I walked. Then, I remembered that I had saved my toe guards from when I did pointe ballet in high school. I pulled out the guards and slipped them into my shoes. My heels were about 1/2 inch too big and these have worked sooooo well. They keep your foot in place, are clear so they are not noticeable, and best of all I get to wear the shoes with comfort.
The guards are made of a jelly-like material -- think of the material used to make those jelly handbags a few years ago. This makes it easy for you to trim off any excess and make a custom fit to your shoe. They are also washable. They are a bit pricey, since you need to buy them at a dance supply store or website. I have occassionaly seen them at Walmart with the other shoe inserets, although I don't remeber how much they ran.
Discount Dance Supply
offers them for a really good price -- under $20. This is the same brand I got years and years ago. They have held up very well, but do discolor to a slight yellow color.
I hope this little tip helps and gives you an excuse to keep those cute shoes! :)
Emily
**Sorry for the crappy picture. I don't have access to my normal computer as I am currently serving jury duty. Also don't forget to post a question on my last post!! :)