Last week I decided very spur of the moment to get a haircut. I wanted to try something completely different from anything I had before and I wanted to do something kinda short. I ended up getting a bob and will probably be trying out some 30s hair styles soon. I bought
this curling iron
from Ulta to try out some faux finger waves. Once I get some decent results, I will share on the blog.
I wore this outfit to a cool little local event in Detroit, the
Holiday Baar Bazaar
. The Bazaar featured a night of shopping and sipping on some beer or wine. The vendors included some vintage clothing and housewares, vintage records, and crafty goods. I bought the cute little bobby pins below. I have a mild fascination with sparrows and thought these would be fun with my new haircut, plus they were only $5. The seller has an etsy shop, which can be found
HERE
.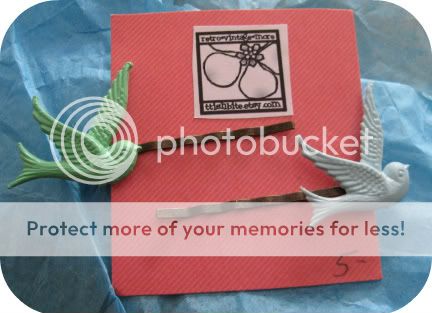 50s Dress: eBay
Shoes, Owl Necklace: JC Penny
Sweater, Tights: Target
Belt: Kohls
Vintage E Pin: Estate Sale
60s Earrings: Mother Fletchers